Service Area
Serving Southeastern and Mid-Michigan
D Poole Cleaning provides commercial and kitchen cleaning service to the Southeastern and Mid-Michigan regions. We service areas 60-90 miles* from our Lapeer warehouse including the following counties:
Clare County
Gladwin County
Arenac County
Isabella County
Midland County
Bay County
Huron County
Gratiot County
Saginaw County
Tuscola County
Sanilac County
Clinton County
Shiawassee County
Genesee County
Lapeer County
St. Clair County
Ingham County
Livingston County
Oakland County
Macomb County
Jackson County
Washtenaw County
Wayne County
Hillsdale County
Lenawee County
Monroe County
The shaded areas in the map below include our main service markets.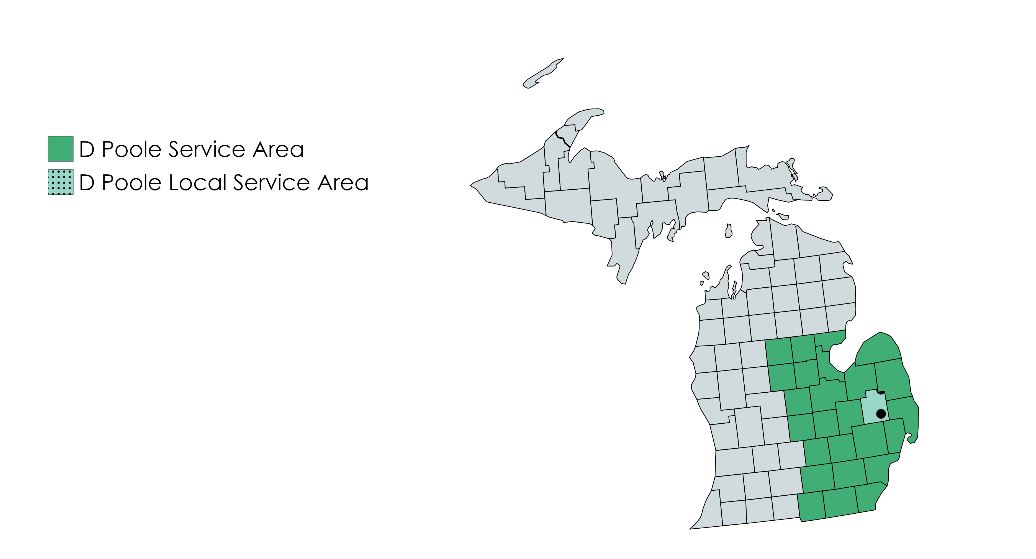 We service locations outside our main service market (shaded area on the map) but will charge an extra service truck fee of $150.00/a day, per truck. This fee covers additional added expenses like fuel and hotels.
All jobs scheduled are subject to winter weather conditions that are out of our control and can change at any moment. Safe working conditions are our number one goal.
Service Contracts
Most of our customers opt for a service contract on a monthly, bi-monthly, quarterly, 120 days/every 4 months, 6 months, or yearly basis for their cleaning services. We offer a wide variety of service plans for you to choose between depending on your cleaning needs. We then automatically schedule your planned services around times that work best for you and your company.
All of our maintenance plans and preventative programs are specially designed to fit your specific cleaning needs. Call us today and see what we can do to better assist your establishment with your cleaning needs.
Quality Service Guarantee
We offer a quality cleaning service that you can count on. If you ever have a problem, we will be there before and afterward to not only listen to all your concerns but to work hard every day to satisfy those concerns and needs.
Equipment Service and Repair
D Poole Cleaning is primarily an equipment cleaning company, but from time to time, we run into customers needing their equipment repaired. We have a list of fully trained and qualified service and repair companies that we can assist and refer you with, if needed, all over the state. Our teams are highly trained and are happy to help rebuild and repair a wide variety of equipment.